An overview of Falcon Lake Manitoba along with Falcon Beach campground and Whiteshell Provincial Park, including amenities, location and more.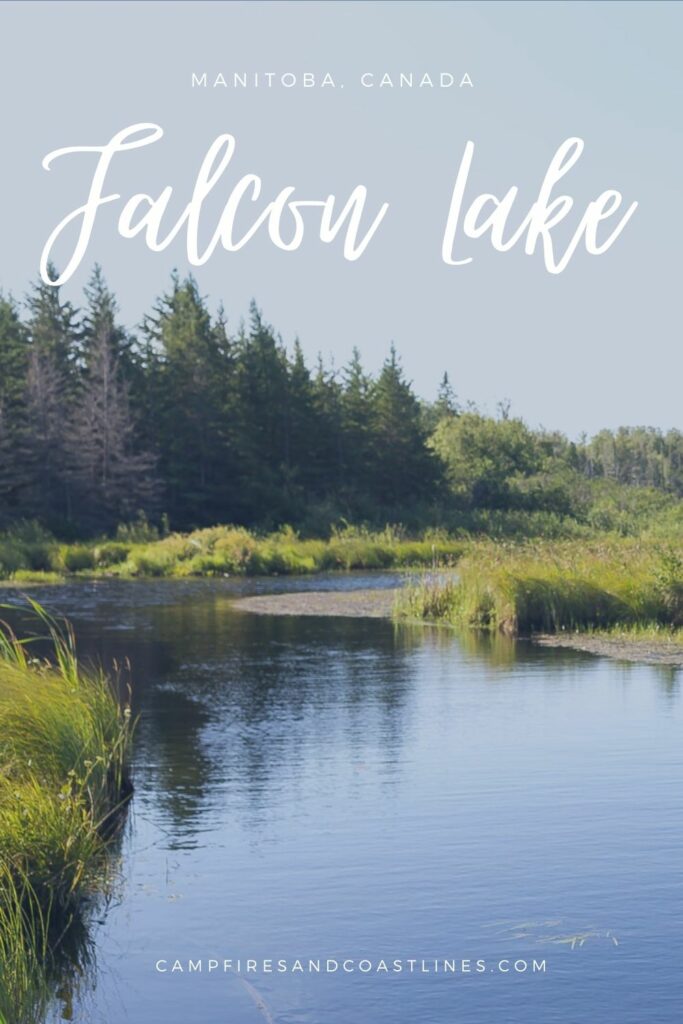 It's been a few years since we've been at Falcon Lake, and even though the weather was the worst camping weather we've had this year, we still managed to have a great time!
One of the nice things about Falcon Lake is that there is so much to do.
We still love those out-of-the-way camping spots that have less people, less shops, and more time to quietly enjoy nature, but being in town and having access to more activities can be fun, too!
Falcon Lake location:
Falcon Lake is about 1 hour and 45 minutes directly East of Winnipeg along the #1 highway, very close to the Manitoba-Ontario border.
It's set in Whiteshell Provincial Park which is one of the largest provincial parks in Manitoba.
It is also one of our favorite parks, as there are so many lakes to explore, and the combination of the lake with the towering granite boulders and pine trees is hard to beat.
Falcon Lake Campgrounds and Campsites
There are two campgrounds at Falcon Lake in Whiteshell Provincial Park: Falcon Beach Campground and Falcon Lake Lakeshore Campground.
We stayed at Falcon Beach Campground, which is right in the town of Falcon Lake and close to the main beach, restaurants, shops and amenities.
The sites are smaller, with less privacy and less space in between each site, but if you choose a site that is farthest from the beach, they are more sheltered.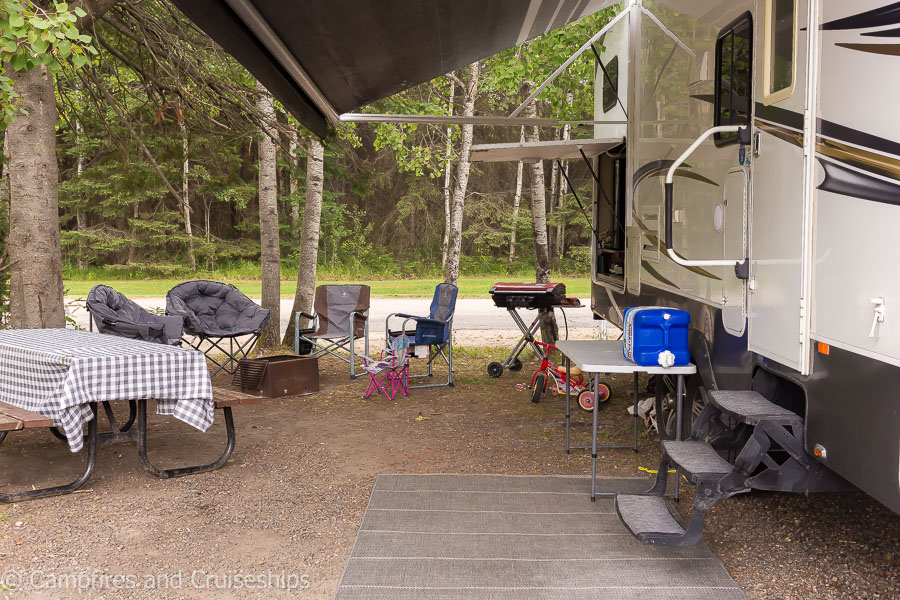 Falcon Beach Campground has lots of full service sites so there are a lot of RVs, but the tenting area is well treed and beautiful.
Falcon Lake Lakeshore Campground is just a short drive away, but definitely has a different feel.
There are way more trees, and there's a lot more space in between each site (i.e.: privacy). There are fewer amenities (no full service), but it does have its own beach and is a smaller campground, so it will definitely be quieter.
If we were going to camp at Falcon Lake again, we would check out Falcon Lake Lakeshore Campground since we love having a little more space and a few more trees. We drove around the campground a bit and the electric sites in Bay 4 are close to the beach and quite nice!
Falcon Lake Activities and Amenities:
Falcon Lake Beach:
The beach at Falcon Lake is beautiful — very sandy, and the swimming area is smooth and sandy as well, not rocky or slimy!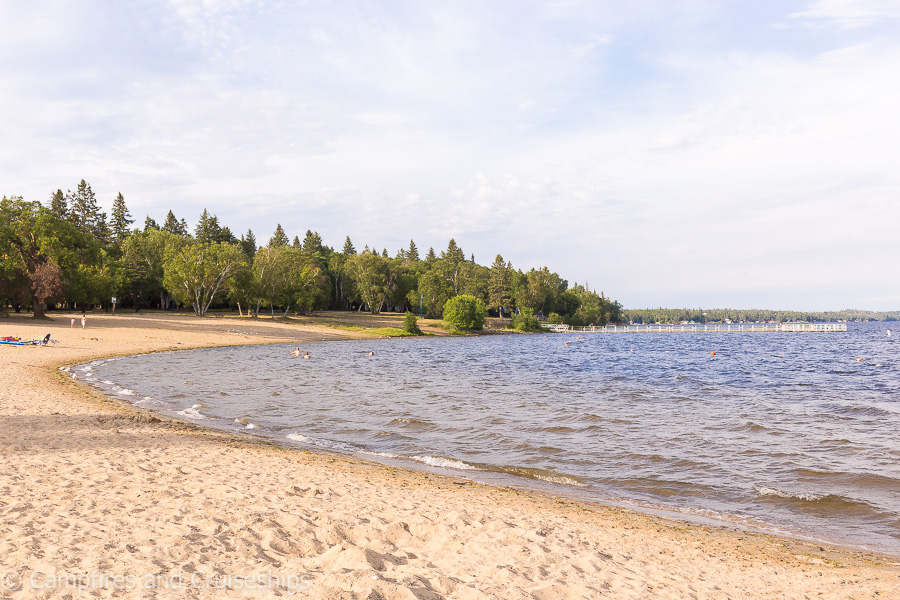 The weekend we were there was cool, and the water was frigid, but on a hot day it would be very refreshing.
The boat launch is near the beach, and has a nice deep canal with plenty of room for docking, so while we didn't have a boat, it would be the perfect place for boating or fishing as well!
Playgrounds:
The playgrounds in the campgrounds are small and there's not much to do, but the playground at the beach is large and new and there are lots of activities for older kids, too (in fact, my toddler had a hard time as there isn't a lot for the younger ones).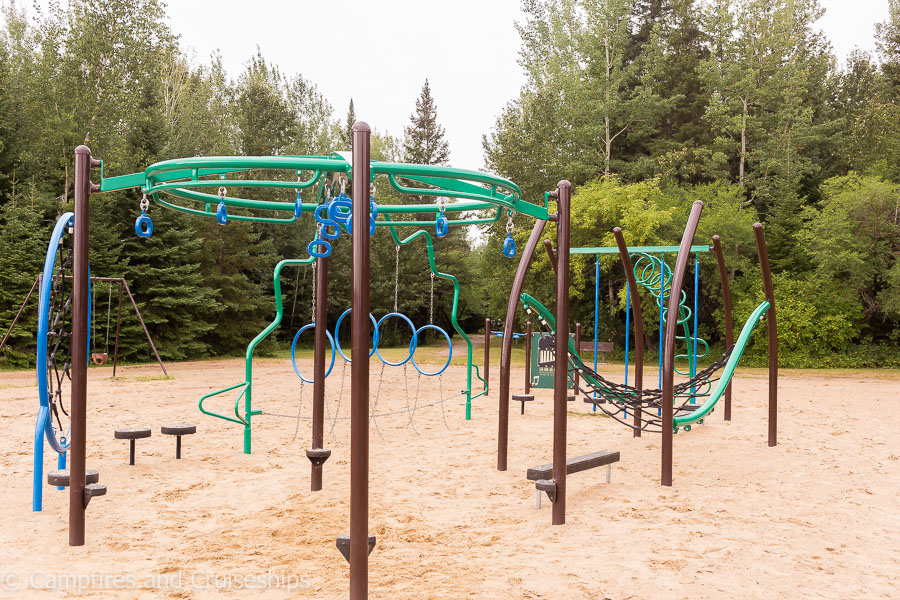 If you choose one of the campsites in Falcon Beach Campground along the road across from the beach, the playground and the beach are just a 2-3 minute walk.
Concessions and Restaurants:
The Beach House is a small restaurant right at the beach in Falcon Lake, and offers a surprisingly wide variety of hot food items, candy, ice cream treats, drinks, and even alcoholic beverages (which have to be consumed on the patio).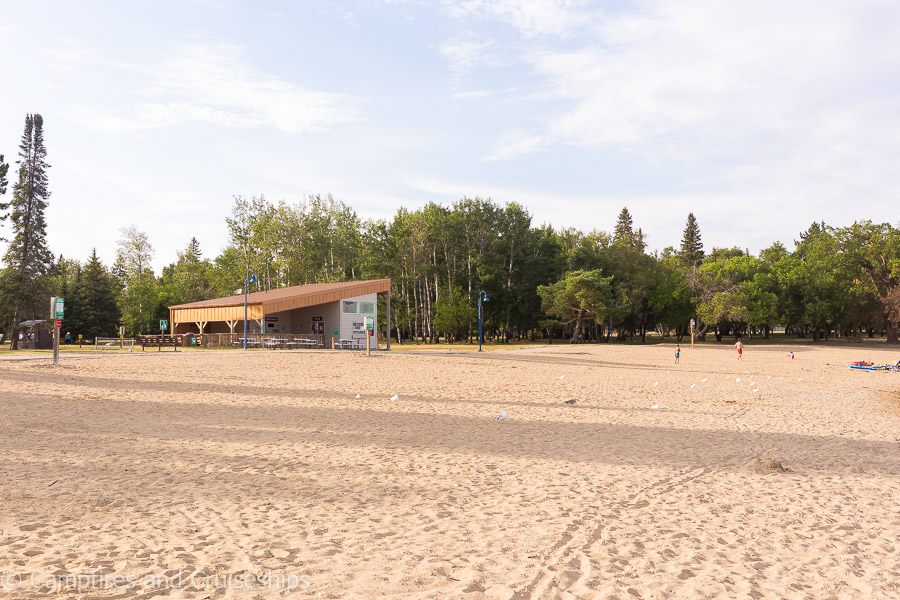 In the town of Falcon Lake there are a number of other restaurants, including a bakery, The Nest cafe, a Gondola Pizza, and more.
There is also a grocery store, golf course with one of the best mini golf courses we've ever played, a ranch (pony rides anyone) and ski slopes for a winter getaway.
Hiking:
Since we're just warming our kids up to the idea of hiking, we are always on the lookout for short trails that are family-friendly.
We did the Falcon Creek Self-Guiding Trail one morning and really loved it.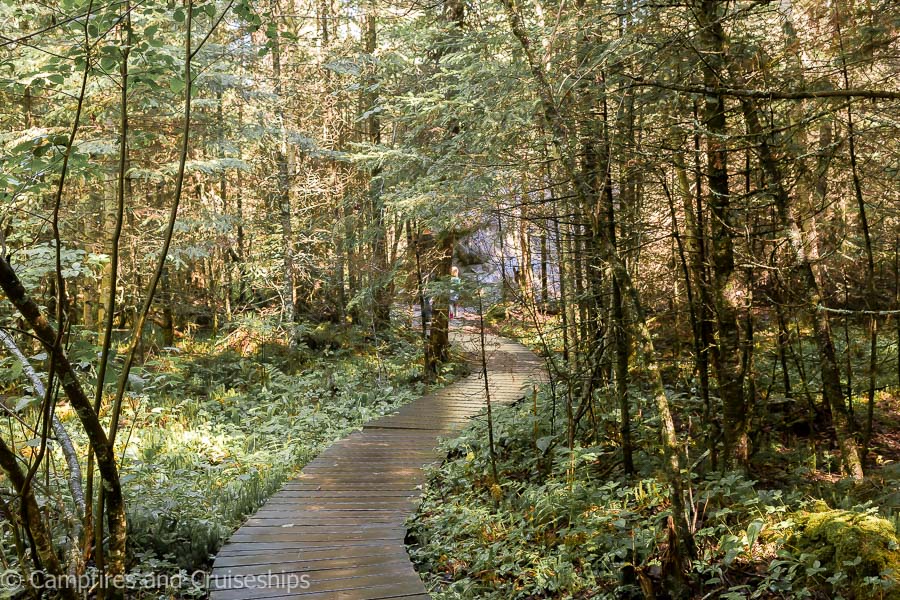 It's short, but not without its challenges. It is narrow in places, and there are a good number of rocks and locks and tree roots sticking out into the trail at places.
For some reason, my kids really loved this as it made the trail a little more fun and exciting.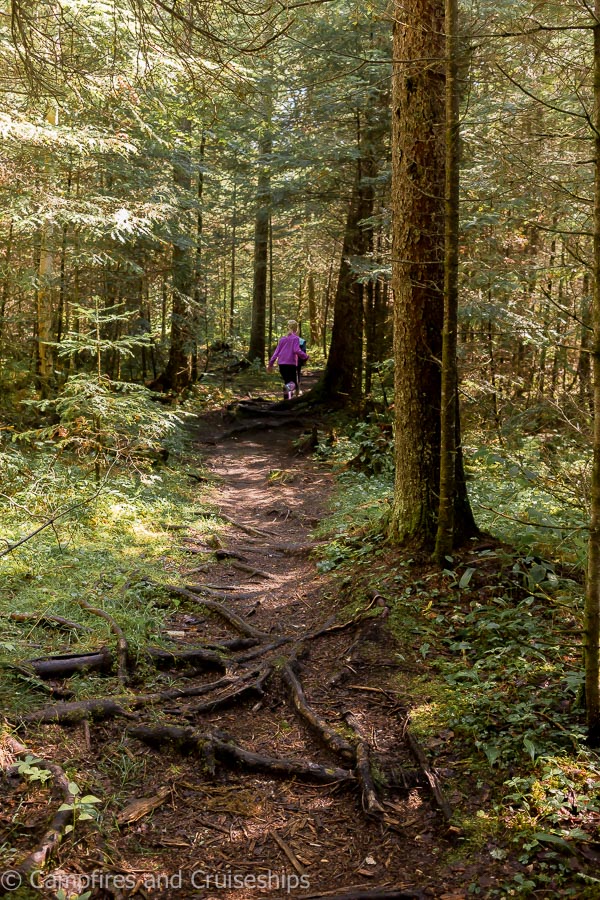 There is some climbing, and the trail is definitely not smooth or flat, but we easily did it with our 2, 5 and 8 year olds, so as long as you're up for a bit of adventure, it's a great trail!
Cell Service:
The cell service at Falcon Lake is the best we've had all summer. Being right in town, we expected this, but even on the trail and throughout the area we had no problem loading apps or sending texts.