3 days of family-friendly, quick prep camping meals to get you on the road in no time!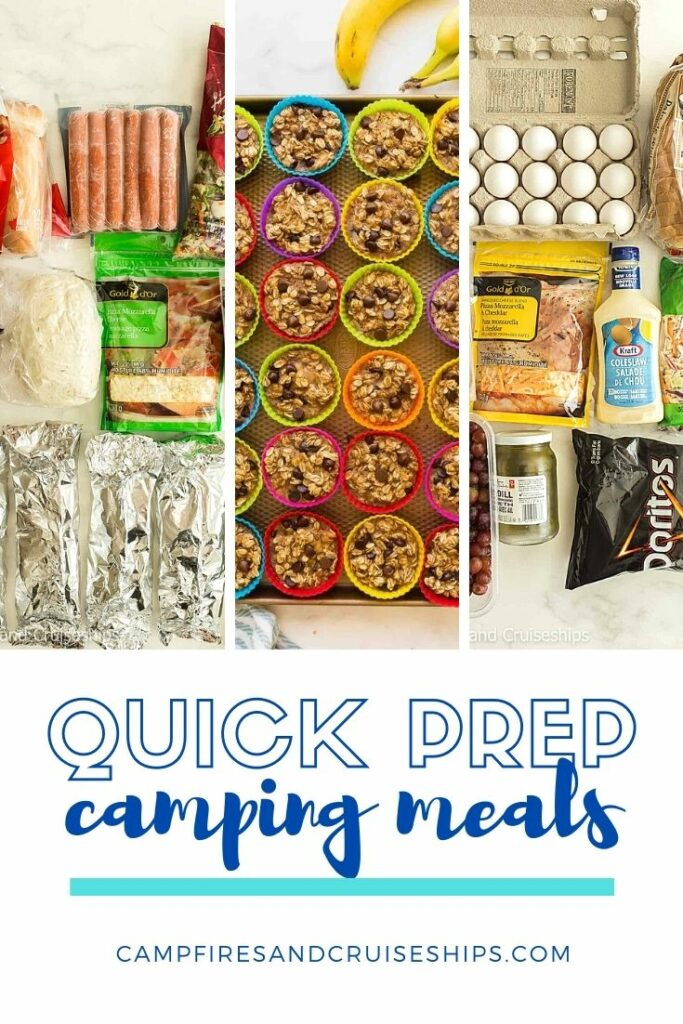 This is my third camping menu plan here on Campfires and Cruise Ships (see my first Camping Menu Plan here and my second Camping Menu Plan here!)
The thing is, camping prep can be exhausting, and since we have so many long weekends away booked this year in an effort to discover our new favorite spots around Manitoba, it's a lot of work.
For this camping meal plan, I wanted easy.
I didn't want to be prepping food for hours at home before we left, since we have so few hours at home to begin with.
It took me about an hour to prep and pack all of the food I made for this weekend away, which I was very happy about!
GENERAL CAMPING FOOD TIPS:
You can get as creative as you want with your camping food, but here are a few tips for prepping your camping food to make it more enjoyable once you're out!
What ingredients can be doubled up for multiple meals? Simple things like a large bag of shredded cheese, a bottled sauce or condiments, or a loaf of bread or bag of buns. Grabbing one ingredient that does double (or triple!) duty can be a big time and space saver.
What can be completely cooked ahead of time and simply reheated? If you are reheating food, you have a lot more flexibility as to how it will be stored or cooked and it will make your time away much more relaxing!
What kind of cooking dishes and utensils do you have at your disposal? Do you need to plan for cast iron cooking? Foil packs? Only on the campfire, or only on a barbecue or stove?
How long do you need to keep food for? Are you stuck with a cooler and ice or do you have a fridge or freezer? Different foods have different life spans outside of a refrigerated environment.
3 Quick Prep Camping Breakfasts: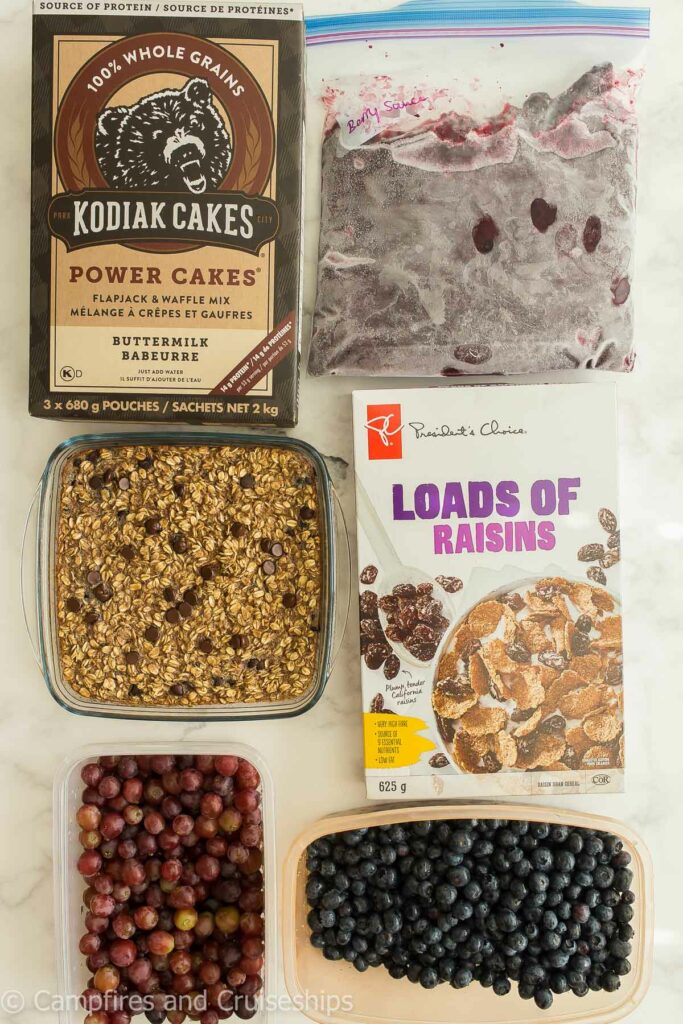 Banana Baked Oatmeal — I made this recipe into two 8×8″ pans instead of cups to save on time, and it worked great because I could freeze one for another weekend (and save on prep time then as well!)
Pancakes from mix — I bought a Costco sized box of Kodiak Cakes at the beginning of the summer to keep in the camper, and we are loving them! We serve them with syrup or whipped cream and berry sauce if we have it in the freezer.
Cereal — I know, this doesn't really count but sometimes you need a break! This works for us because we are travelling in a trailer with a fridge so we can easily keep milk cool. If you are worried about travelling with milk, you could easily swap in a batch of these Banana Muffins and fruit instead.
2 Quick Prep Camping Lunches: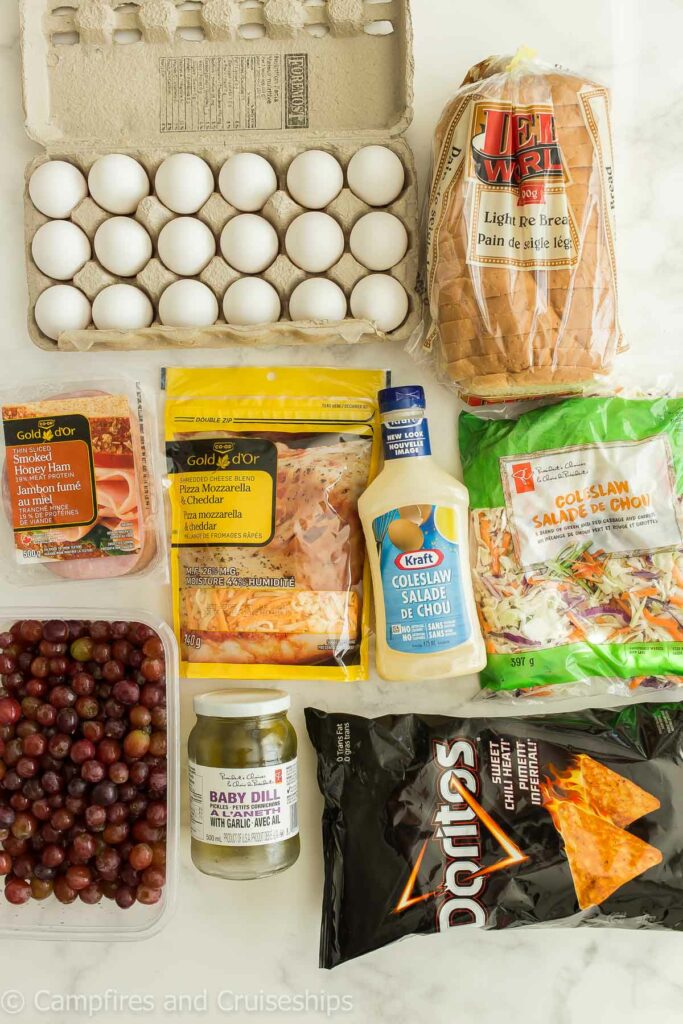 Eggs and toast: because we love eggs for every meal and there is no prep involved! If you don't count eggs as lunch, feel free to swap this meal out for one from my other camping menu plans. We supplement all our meals with fruit and veggies, or chips and pickles, and it really helps to save on prep time as well.
Camping iron hot sandwiches: we fill the bread with ham and cheese and serve with cole slaw and chips. Another no prep camping lunch that everyone loves!
3 Quick Prep Camping Dinners: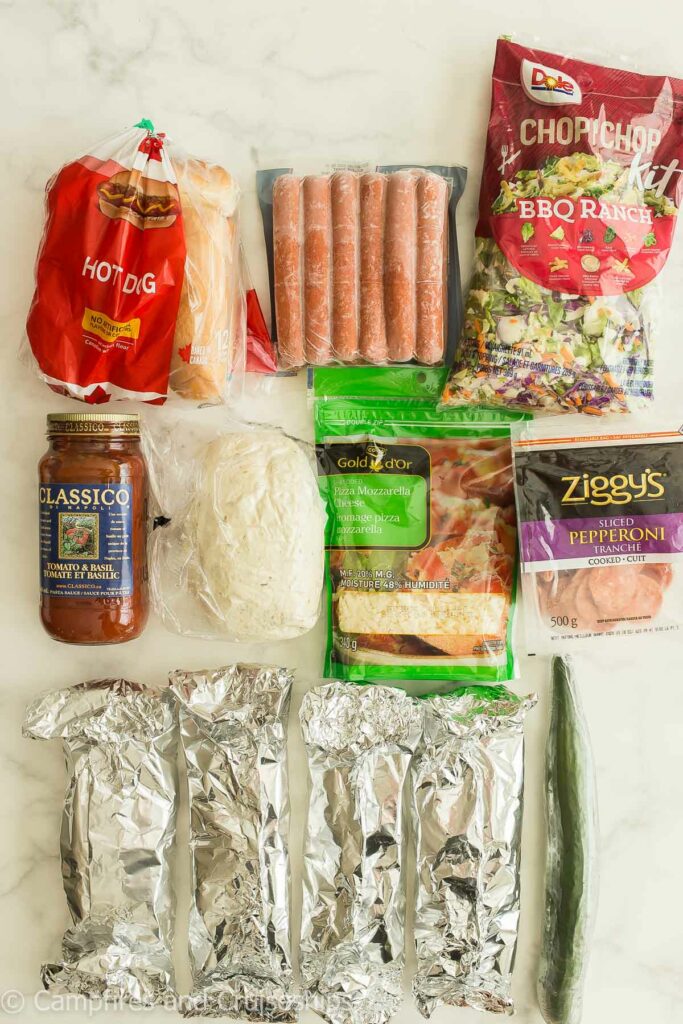 Hot dogs: I know, not that exciting, but we love hot dogs over the fire and we only really have them in the summer. We buy the good quality, all beef ones!
Grilled Pizza: I snagged a bag of pizza dough from a local bakery, some bagged shredded cheese, pizza sauce and toppings and we grilled pizza. It is so easy to make, and again, other than gathering supplies there is no prep involved (unless you make your own pizza dough or have to shred cheese). Add a bag of salad and you're good to go!
Smoked sausage, potato and onion foil packs: I love using smoked sausages because they are already fully cooked. For these packs, I used cooked potatoes so that all we had to do was reheat them over the grill or fire. A little diced onion, some oil, and whatever seasoning blend you like!
I'd love to hear what some of your quick prep camping meals are!